Grab a honey-sweetened latte (my current fave) and get comfy, friends – it's the weekend, and I'm feeling chatty.
It has been a little while since I last shared a round of links with you. So much has happened in the last while. The ice storm before Christmas knocked out our power for 48 hours and that threw all of our last-minute plans off (power came back the night before Christmas Eve), and I felt like I was playing catch-up for the next 2 weeks.
We are finally getting in to a nice groove here. After hubs quit his job in the fall, we've been slowly figuring some stuff out. We are now settling nicely into the entrepreneurial mindset as we see if this site has business potential. Chris is also doing some freelance aviation instruction and consulting, and so far we are making ends meet easier than when he worked for the flight school (which is not really saying much, actually, but still it's nice.)
I have a post simmering in my mind on how to climb out of survival mode, but it will have to patiently wait its turn to be sorted into something coherent. There's only so much mama-brain-power to go around when you have 3 kids aged 5 and under, you know.
In the meantime, I hope you're having a sparkly day. Literally or figuratively. Or both, of course – that would clearly be a winning day no matter how you slice it.
Links
Hidden Dangers of Teflon Cookware: What You Need to Know | My monthly contributor post at Keeper of the Home
Have American Parents Got it All Backwards? | The Huffington Post
80 Gluten-Free Slow-Cooker Recipes | Divine Health from the Inside Out
5 Supplements to Consider This Year | GNOWFGLINS
A Simple Ritual to Fight the Winter Darkness | The Art of Simple
New Contributors…
The end of 2013 has brought an end to our time with former contributors Marissa and Dea. I have been grateful for all they've contributed to this community, and I'm excited for the new ventures they have in their lives!
Now I just want to take a minute to give you a quick intro to the newest members of the writing team here at Red+Honey. I have two reasons for inviting these two lovely people to this space on a monthly basis…
1) As this community grows, it requires more and more of my time. With a set number of hours each week set aside for working here, I can only do so much. Growing a business takes a stinkin' lot of time and energy, and I'm more than happy to accept the help and reiterate my desire to retain my darling family as my number one priority.
2) I also just really have the desire to invite a couple of women to the table to share different voices and perspectives and topics that I can't offer. I'm pretty sure you'll love them.
Erin and her husband, Mike, left their stressful urban lives a few years ago to live in a big blue yurt on 22 rolling acres in rural Southwest Virginia. A rag tag mix of farm animals keeps them company, from oinking pigs to honking geese.
They're slowly using sustainable methods and animal power to rehabilitate their land…one acre at a time. Erin will be writing about small space living, with a sprinkling of homesteading mixed in!
You can check out her blog, and follow her on Facebook, Pinterest, and Instagram to keep up with all things yurt-ish! 🙂
Kathleen grew up in the Old Colony Mennonite community with four younger siblings, getting an early and hands-on education on frugality and self-sufficiency. She went on to marry another Mennonite at the age of twenty, get an MA in English literature (because: of course), and become a stay-at-home mom and blogger.
She lives with her husband and two-year-old daughter in Southwestern Ontario, where together they're constantly learning how to grow, build and make more things themselves, and striving to think more globally. There is always something living on her kitchen counter (from kombucha to sourdough.)
Kathleen loves thinking and writing about peace and nonviolence, creation care and crunchy living.
You can check out her blog, and follow her on Facebook, Pinterest, and Instagram to keep up with her latest musings on these topics!
***
Lastly, I just want to give a shout-out to my amazing new hosting company: Black Chicken Hosting. They are a small "sustainable" company with an incredible heart and the kind of customer service that would blow your mind with its awesomeness. When I switched to Bluehost just before Christmas I embarked on 3 rocky weeks of bad service, including my website being down for 8 hours on January 31. Their response when I called to ask for a refund? In essence: See ya! Don't let the door hit ya on the way out!
So… what I'm saying is – if you are starting a new site or you already have one and are looking for stellar hosting service, check out Black Chicken (click to go to their site via my affiliate link). I don't actually expect to make money from it – this is a natural living site after all, not a how-to-blog site – but I honestly just am so impressed with them that I wanted to send a little love their way.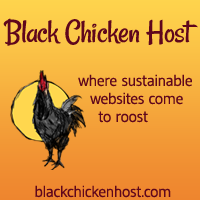 Happy weekend, my friends. I'm really, really honoured to have you here, and do this writing thing that I so love. Thank-you!