Post by contributor Brittany Hess
It can be tough to find quick meals and snacks that don't compromise nutrition, especially as a mom with a busy family life! I'm not a pro by any means, but I have a few tricks that make it a bit easier.
I don't necessarily follow my own advice all of  the time (I wish I was that organized) so don't feel like you have to be super organized or regularly meal plan for these tips to be helpful. Just jump in and implement these ideas where you can!
(I am currently trying to follow a lower carb, clean eating diet. Most of the tips below work with that type of diet if you are doing the same.)
Quick Tip: Remember to use your crockpot! Throw the ingredients in by late morning, and it will be ready by dinnertime. Can't beat that!
1. Have several "go-to" easy meals that your family loves.
Chili is one of my fail-proof recipes for busy days. I use it frequently when I just need something I can throw in the crock pot in the morning and not worry about it until dinner. You can also add a ton of veggies in there so the kiddos get veggies with little to no fuss (if you're lucky!). I frequently make this when I have veggies that need to be used up  in the fridge.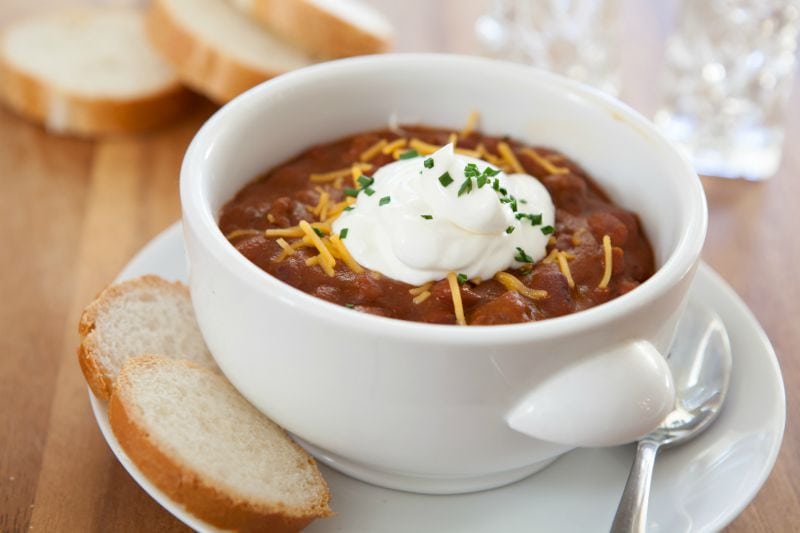 Here's my recipe below. It can be frozen, or just put it in the fridge for all week meals (what we usually do).
(Beth also has an awesome chili recipe posted on this site that gets rave reviews!)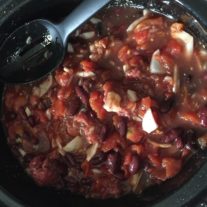 Ingredients
1 to 1/2

lb.

of ground beef

the amount you use is entirely up to how much meat you want

1

onion

diced

1

bell pepper diced

3

cloves

of garlic minced

3 14.5

oz.

cans of diced tomatoes

does not have to be canned, I've used fresh tomatoes as well

1 8

oz

can of tomato sauce

2

cans of beans

I use kidney but any will work and you don't have to use canned, also I have heard using ½ cup of Pumpkin puree instead of beans can bulk it up

2-3

tablespoons

of chili powder

depending on how spicy you want it

1

table spoon cumin

*you can also add any veggies just dice them up and throw them in. I have used different bell peppers and zucchini)
Instructions
There are 2 ways you can prepare this depending on what you want to do.

Stove top- Brown your meat and drain it. Add all the other ingredients and cook until hot and the veggies are soft, you can serve it immediately but the longer you let it simmer the more flavor it will have. This is the quickest option.

Crock pot- Throw everything in and put it on high for 4-6 hours.
Nutrition
Serving:
0
g
|
Calories:
0
kcal
|
Carbohydrates:
0
g
|
Protein:
0
g
|
Fat:
0
g
|
Saturated Fat:
0
g
|
Polyunsaturated Fat:
0
g
|
Monounsaturated Fat:
0
g
|
Trans Fat:
0
g
|
Cholesterol:
0
mg
|
Sodium:
0
mg
|
Potassium:
0
mg
|
Fiber:
0
g
|
Sugar:
0
g
|
Vitamin A:
0
%
|
Vitamin C:
0
%
|
Calcium:
0
%
|
Iron:
0
%
Another favorite at our house is Crock-Pot Shredded Chicken that we use for various quick meals. I love to do this on a Sunday and have it for the whole week. You can make so many different meals with this. I use it for soup, quesadillas, salads, sandwiches, and casseroles. You can also freeze it for future meals.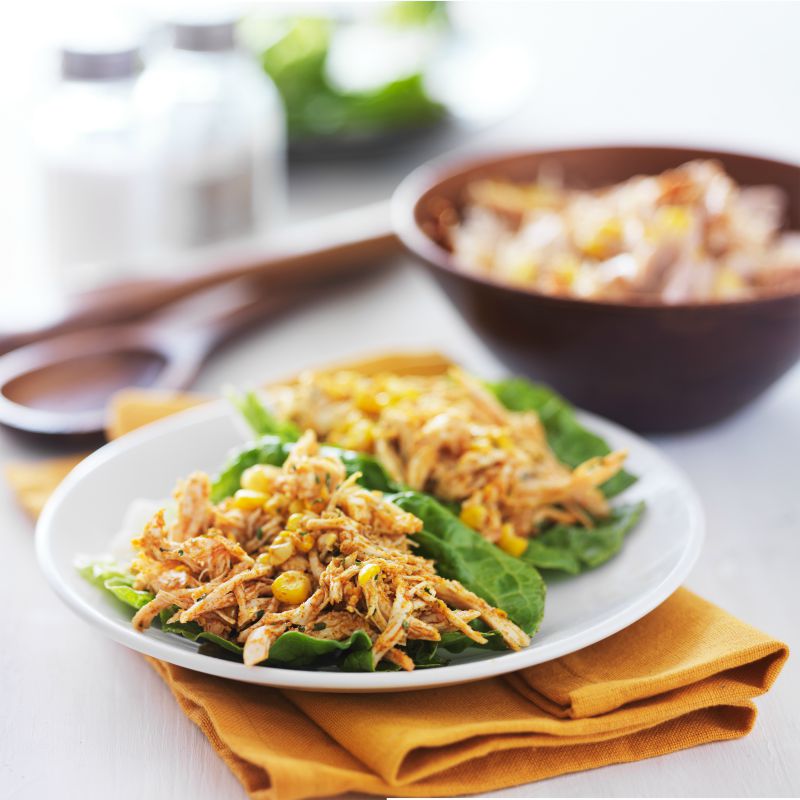 Here's how I make it: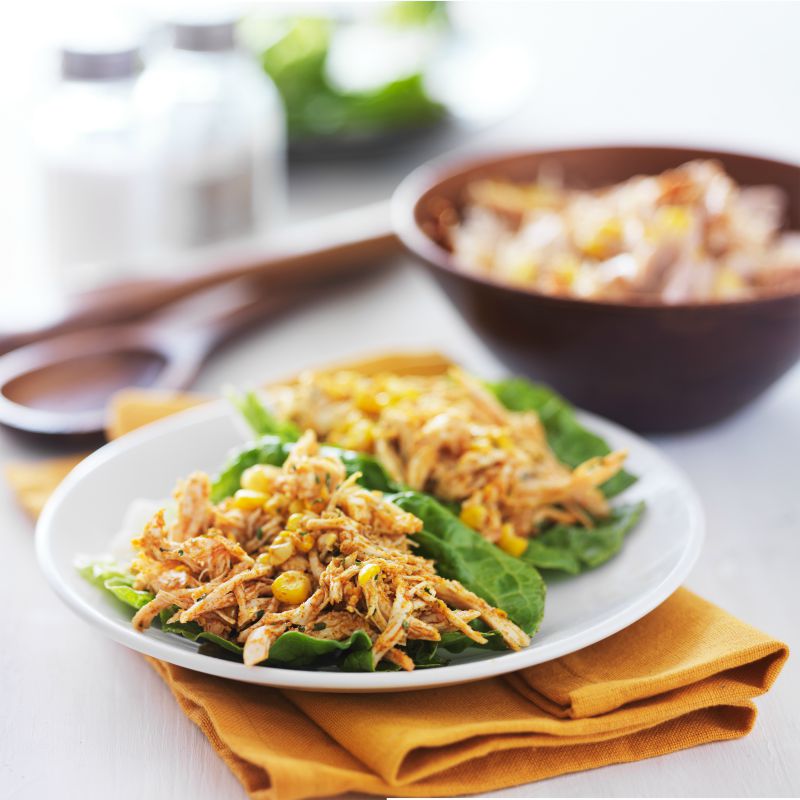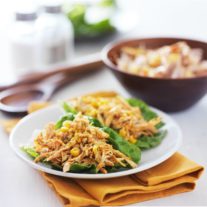 Ingredients
3-5

lbs

of chicken breasts

depending on size of your crock pot
Instructions
Put it all in on high for 4-6 hours, always check your temperature (Chicken should be 165 degrees)

After chicken is cooked take a hand blender and shred the chicken.
Nutrition
Serving:
0
g
|
Calories:
0
kcal
|
Carbohydrates:
0
g
|
Protein:
0
g
|
Fat:
0
g
|
Saturated Fat:
0
g
|
Polyunsaturated Fat:
0
g
|
Monounsaturated Fat:
0
g
|
Trans Fat:
0
g
|
Cholesterol:
0
mg
|
Sodium:
0
mg
|
Potassium:
0
mg
|
Fiber:
0
g
|
Sugar:
0
g
|
Vitamin A:
0
%
|
Vitamin C:
0
%
|
Calcium:
0
%
|
Iron:
0
%
Here are specific ideas to get you started:
Soups- just throw it in with some veggies and stock and you have a quick soup.
Quesadillas-  You can do so many different options with quesadillas. A simple chicken and cheese, add beans, roasted vegetables (bell peppers are great for this), sour cream,  hummus… the possibilities are endless.
Chicken Barbecue- You can add the barbecue sauce in with the original batch of chicken or add it later for very delicious barbecue sandwiches or just barbecue chicken if you are going low carb.
In addition to all the above you can add it to salads for protein, in your favorite casserole, or make a quick chicken salad. Shredded chicken also freezes well for when you are in a pinch!
2. Wash and prepare produce the same day you bring it home
I know it sounds simple but unless it's there and ready, we don't eat it. I am beyond embarrassed about the way our family has wasted produce in the past because I just grab it from the store and don't take that extra hour or two to get a little bit of prep work done.
So I started getting the fruits and veggies, then cutting them up and having them all ready and easy to grab and go.
I also currently use glass containers (my personal favorite is the snap ware from Pyrex, I've dropped a few with no dire consequences!). I also find the class containers seem to keep things fresher.
Here's a list of what I do after getting home from the grocery store:
Vegetables
*Carrots: I peel, then I either cut them in sticks or I slice them with a vegetable slicer/mandolin to use in soups or carrot "chips" (I eat those with hummus or any dips I make). Buying bigger bags of carrots tends to be cheaper and carrots freeze very well.
*Cucumbers: Peel or don't (depending on my mood) and slice with the slicer. You can dip them in anything and you can make little cucumber sandwiches. I use them to replace chips sometimes; it's not the same but if it's a crisp cucumber, you still get a crunch.
*Celery: cut into sticks or use slicer to have it for chicken salad or soups. My personal favorite is sticks with any nut butters, simple but very quick! (add raisins for the ants on a log trick that most kids enjoy!)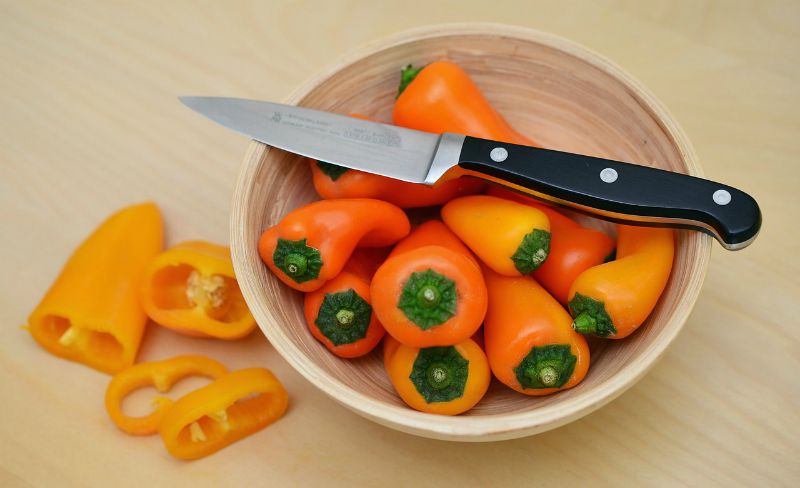 *Bell peppers: cut the top off and clean the inside seeds out and then I personally use the slicer because it's quicker but you can do strips also. I find towards the end of the summer farmers markets will have big bushels of these and they also freeze really well. Hubby likes when I just clean them out and skip cutting them, then freeze them for future stuffed peppers.
*Broccoli and Cauliflower: I love absolutely love roasted broccoli and cauliflower. I just chop it up (big or small depending on the mood) and drizzle with olive oil, bake for 20ish minutes (really depends on how well done you would like them). You can also chop them up for broccoli salad or chop them extra fine to throw into mac and cheese (sneaky sneaky!)
*Onions: we use a lot of onions in our house, whether it's grilling them, using them in a salad, or caramelizing them for a sandwich. It's a lot easier if you do all the chopping and prepping in one sitting. Your eyes will appreciate it!
Fruit:
*Strawberries: wash, cut the tops off, and halve them.
*Watermelon: I just started cutting it a new way and really find it to be a lot easier. I cut the ends off first, then cut it in half. I then cut down the sides just cutting the rind off. Then slice it horizontally then vertically so you end up with chunks.
*Pineapple and Cantaloupe: cut up similar to the watermelon.
*Apples: slice them if you do not mind them being a little brown (sprinkling lemon juice can keep this from happening).
*Peaches, pears and the like: You can leave them whole and just wash them or wash them, slice them and sort them into individual snack containers.
*Other berries: I always wash them and then either put them in my own yogurt parfaits or just individual snack containers.
*Grapes: I wash them, cut them (for my toddler) and put them in containers. If I notice some are getting soft then I freeze those for a quick cold snack.
3. Keep ready-to-munch produce in the fridge, cleaned and chopped.
This is one of the best ways to ward off hungry kids before dinner, as Beth reminded us in her post on rescuing the dinner hour from chaos: have fresh veggies "on tap" to hand the kids when they get hungry.
Fresh veggie consumption increases by a LOT when they're prepped and ready to munch on!
4. Prep your salads in bulk.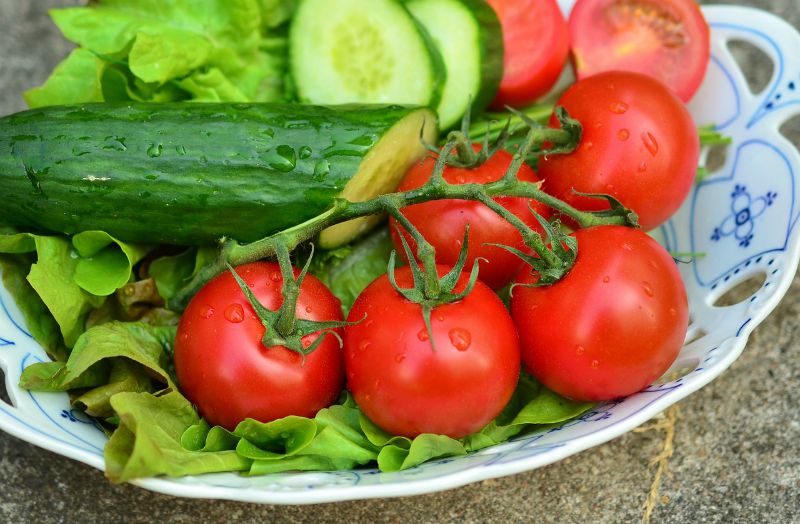 I do a lot of salads but doing all of the prep each time is kind of a time-waster. So I started getting all my lettuce cut, washed and patted down (also you can use a salad spinner) and put it in mason jars. I typically have about six jars full of lettuce ready to go, and have my other prepped toppings in other containers.
Some of my favorite simple salad toppings are cucumbers, chopped tomatoes, hard boiled eggs, goat cheese, slivered almonds and pumpkin seeds.
5. Use a quick batch of salsa and guacamole as a fall-back lunch or snack
I love to make salsa and guacamole for a quick lunch or snack. I use my Pampered Chef mini food processor/chopper (it is truly my favorite and most used kitchen gadget).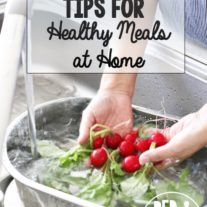 Ingredients
2-3 to

matoes chopped

1-2

bell peppers chopped

I use red

1

onion chopped

1

jalapeño chopped

fresh or jarred
Instructions
Mix everything together, cover about halfway with apple cider vinegar and sprinkle a bit of salt.
Nutrition
Serving:
0
g
|
Calories:
0
kcal
|
Carbohydrates:
0
g
|
Protein:
0
g
|
Fat:
0
g
|
Saturated Fat:
0
g
|
Polyunsaturated Fat:
0
g
|
Monounsaturated Fat:
0
g
|
Trans Fat:
0
g
|
Cholesterol:
0
mg
|
Sodium:
0
mg
|
Potassium:
0
mg
|
Fiber:
0
g
|
Sugar:
0
g
|
Vitamin A:
0
%
|
Vitamin C:
0
%
|
Calcium:
0
%
|
Iron:
0
%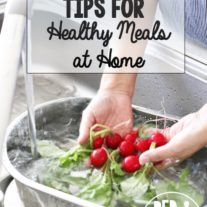 Ingredients
3-4

ripe avocados mashed

1-2 to

matoes chopped

depending on size

1

small onion chopped

1

lime juiced

¼

cup

chopped cilantro

optional

1 ½

tablespoon

of cumin
Instructions
Mix all together and you have a delicious fresh dip for veggies or chips.
Nutrition
Serving:
0
g
|
Calories:
0
kcal
|
Carbohydrates:
0
g
|
Protein:
0
g
|
Fat:
0
g
|
Saturated Fat:
0
g
|
Polyunsaturated Fat:
0
g
|
Monounsaturated Fat:
0
g
|
Trans Fat:
0
g
|
Cholesterol:
0
mg
|
Sodium:
0
mg
|
Potassium:
0
mg
|
Fiber:
0
g
|
Sugar:
0
g
|
Vitamin A:
0
%
|
Vitamin C:
0
%
|
Calcium:
0
%
|
Iron:
0
%
What are your best time-saving tips for making real-food meals at home?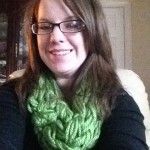 Hi I'm Brittany! I am a wife to my hardworking best friend Jeremy and a stay at home mom to one precious little girl and 2 wonderful fur babies. I enjoy reading, discovering new things, and spending time with my family & friends. I do things a little differently and enjoy trying to have a more natural simple life. I love God and Jesus and believe through them I am saved, forgiven and loved beyond measure.
Beth is the creator here at
Red & Honey
. Mom of four, wife of one, and proud redhead. Sushi and tex-mex lover, fan of adventure, books, natural health talk, and pyjamas. INFP and Type 4 enneagram. Allergic to small talk. And, if you haven't figured it out already, #nerd. Read more posts by
Beth
.