I used to be a lot of things that I'm not anymore.
The role of full-time Stay-at-Home Mom is one of them.
But let me back up:
Isn't that kind of the point of life? To evolve as a person and pursue personal and spiritual growth? I'd love to say that I've grown in leaps and bounds because I'm such a wise and open-minded soul however I must admit that I came by it honestly as a fresh young whippersnapper Know-It-All college kid with a minute amount of knowledge puffing up my big important head.
I studied philosophy in university and loved it – the material, the profs, and the days spent contemplating metaphysics, ethics, and the meaning of life – it was glorious. One small problem: I forgot to learn how to acknowledge that I could be wrong.
That puffed-up head of knowledge was bound to get deflated at some point. I am far too introspective and self-doubting as an INFP to go on with that charade forever. Sorry to disappoint you, smartie-pants college kid self: these opinions you've embraced are far from authoritative on the matter. Sucks to be taken down a notch, eh?
It's painful to admit it – but in the years following my degree and in the first couple of years of motherhood, I was 100% convinced I was right on the SAHM issue. Mothers should stay at home with their babies to raise them to school age, at which point they might possibly obtain part-time work while the kids are in school, so long as they are there with freshly-baked cookies and a glass of milk smoothie for when the kids walk through the front door mid-afternoon. Thus sayeth myself, Authority of Many Things.
Current Me is giving major eye-roll to Know-it-All Me from the past.
I think many of us go through that know-it-all phase in our youth. Some of us escape by the skin of our teeth with our wits intact and a bulldozer-widened perspective, but some carry it with them for a long time – perhaps even forever.
The comment section on any internet article or blog post is evidence enough to prove that Know-It-All Syndrome is endemic to our culture, but perhaps the most flagrant and sordid example is the unfortunately-dubbed Mommy Wars.
(Click that link to read a guest post here at R&H from 2011 and scroll to the comments to see an example of my own musings in the heyday of my shifting perspective. I had come a long way by then, and now further still.)
Here's what I believe: it's utterly ridiculous that we have to fight about loving moms doing their best and the different styles they embrace. I contributed to that during that period of my life and for that I am sorry. So many books and camps and schools of thought are making a lot of clamouring noise in the parenting world. But I no longer read books in order to gain authority, I read them in order to open my eyes.
I suppose you might be wondering how exactly I became so darn humbled in this conversation (and others).
Let's just say that having a few years of life experience under your belt before pontificating your supposed knowledge is a grand idea.
In our almost-twelve years of marriage we've chosen some unconventional career paths that have required creative budgeting. That's a fancy way of saying we have often been dirt poor (of the working class variety). That's a story that I've told in bits and pieces over the last few years on this blog, and all of it (combined with assessing our family values and future goals) has culminated in a major family decision that we have made in the last few months.
I quit full-time stay-at-home motherhood in order to consistently work part-time on this blog, pursuing my writing as a profession, and the income opportunities that come along with it. I'm now a part-time WAHM (work-at-home-mom). These days I feel my heart pounding loudly with humility as I forge ahead to a new normal.
We found an incredible/amazing/wonderful home daycare provider who home schools her kids (almost the exact ages of ours) and cares for our kids two days per week. Chris is home with the kids on Fridays, which means I have three days per week to work and write and pursue the earning opportunities coming my way, and we still plan to squeeze in homeschooling our kids with a slightly unorthodox sort of schedule.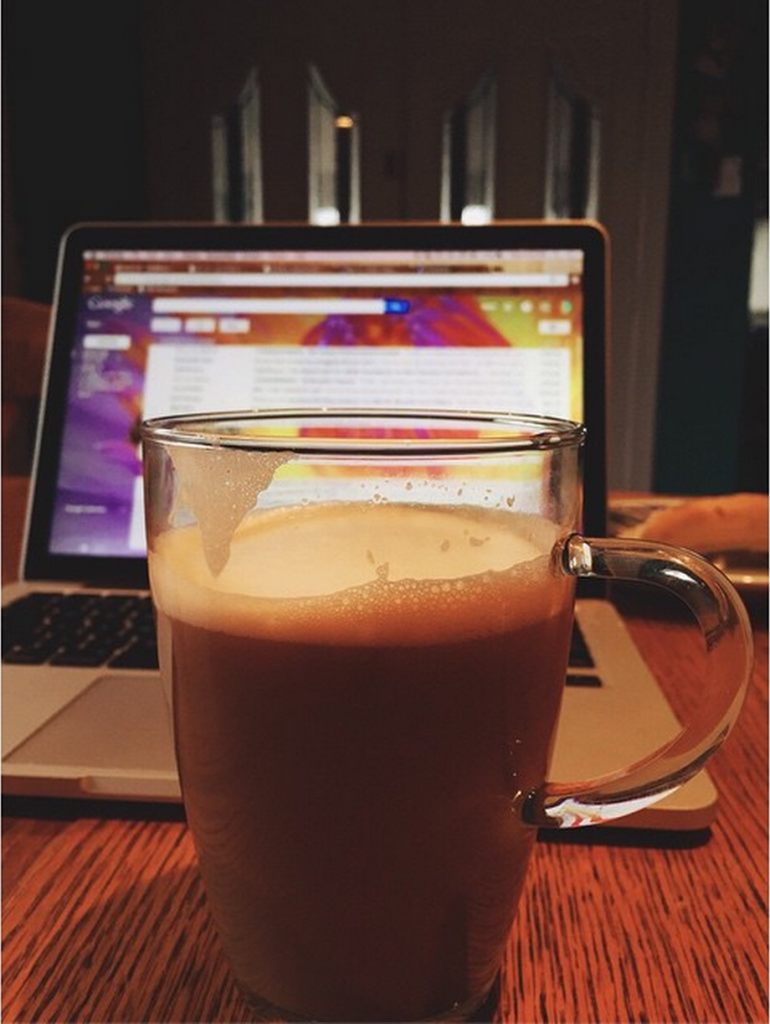 Today I'm working at home, and my kids are not here. They LOVE it there… and I do mean love… as in they counted down the days over the weekend until they got to go back. It does my mama-heart good to see them enjoying and thriving in our new arrangement, especially because I shamelessly love, and I do mean LOVE pursuing this career path and using the gifts and abilities that I possess.
I used to hear other moms saying that stay-at-home motherhood was just not for them, and that they actually enjoyed working full time. Much to my chagrin now, I would put on my wagging finger and scoff at the "excuses", thinking they should really just buck up and try harder to enjoy it because it's The Greatest Ambition Ever of All Time of motherhood, etcetera and so on forevermore… (the intensity with which I once clutched those beliefs tightly makes even me sorta itchy.)
I've now come to see that some women are also called/equipped for/drawn to things outside of that role as well. Striking that balance of using your own unique gifts and talents while also being the best version of your unique mama-self is a tender and startlingly beautiful thing.
But you know what? Being a working mother is tough. I now carry some of the financial burden of our family, so there's pressure on me for that (for the record, this has also made me much more appreciative of the many years Chris has spent as the primary bread-winner). I also miss my kids fiercely when they're gone (although by golly it is a pure wonder how quickly a preschooler's whining can get under your skin even after not seeing each other all day. Just keeping it real here, y'all.)
Furthermore, writing may be my passion, but as any writer will tell you – it's blood, sweat, and tears poured out with raw vulnerability for the world to pounce on. I've grown a thicker skin lately.
You know what's crazy about gaining perspective? You can hardly believe the things you used to say/do/think. To think I spent so many days wishing to escape the drudgery of stay-at-home motherhood! It's legitimately tough to know just how precious it is until it's no longer your daily 24/7 reality. I am now gifted with a greater appreciation of the mundane moments I spend with my kids.
I toss the laptop aside and tackle my kids with bear hugs and smothering kisses before settling onto the couch with a blanket and a bajillion storybooks when we get home. It's bittersweet as they excitedly share the details of their day apart from me.
These days are terrifyingly fulfilling, hard yet freeing, and really, really good.
Hi, I'm Beth, and I'm a part-time WAHM. Happy to be here.
Big ol' slice of humble pie with a giant side of gratitude. That's what I'm noshing on this morning.
Beth is the creator here at
Red & Honey
. Mom of four, wife of one, and proud redhead. Sushi and tex-mex lover, fan of adventure, books, natural health talk, and pyjamas. INFP and Type 4 enneagram. Allergic to small talk. And, if you haven't figured it out already, #nerd. Read more posts by
Beth
.