<insert exhilarating trumpet announcer noise here>
Welcome to Hello Friday, a new regular feature here at Red+Honey. We're saying hello to Friday (the start of a weekend is a beautiful thing), and hello to one another!
Every Friday, I will share links and other such miscellany that I think you'll enjoy. If I may share a small secret with you: some of my all-time fave posts from other bloggers are these link roundup types, so I do hope that some of you feel the same way.
This is just hilarious. And awesome. The Monsanto dude did NOT see that coming. Ha!
Simplifying Science and Embarking on Nature Journaling | Nicole V. Bennett
I loved this post so much from my friend Nicole. Nature Study is one of the main foundations of a Charlotte Mason education (my favourite educational/homeschooling philosophy). Her nature journal is so inspiring, and her watercolours are so beautiful. Love it!
Yes! This is one of the first newbie natural living switches I made years ago, and this post from Rebekah is a great explanation of the reasons behind it, plus she includes a video tutorial for how to make your own foaming hand soap (SO EASY).
I did a big freezer meal cooking day years ago with friends, and we all got a ton of meals for our freezers. It was amazing to pull out ready-to-go meals from the freezer at any given moment. Why the heck haven't I done this again? I'm planning a day of it again, stat.
This is nuts. Just so crazy. I hate food waste, and it is one of the major ways I am working on saving money right now. Menu planning has made this easier. (I use Plan to Eat for that.)
I so appreciated this article from Tiffany. She writes: "I decided to do a little digging myself and as it turns out, there's a plethora of "hidden" information on organic food and the organic industry as a whole. I say "hidden" loosely, because it's not buried beneath links and PDF files to the point of no return. It's just that unless you choose to look, you won't find anything."
FREE DOWNLOAD! Woohoo!
I'm excited to offer a free download to my favourite people: the R+H email subscribers! The download is the "Quick Gear Guide to Cooking Real Food (Top 5 Tools)" – the tools that make my real food cooking life so much easier!
—> Click here to get your copy!
This is the first time I've offered a subscriber thank-you, and I'm pretty excited about it!
My most popular instagram of late was this one. I guess my people can relate to a good bit of naughty unseasonal fruit-buying. You can follow my instagram here.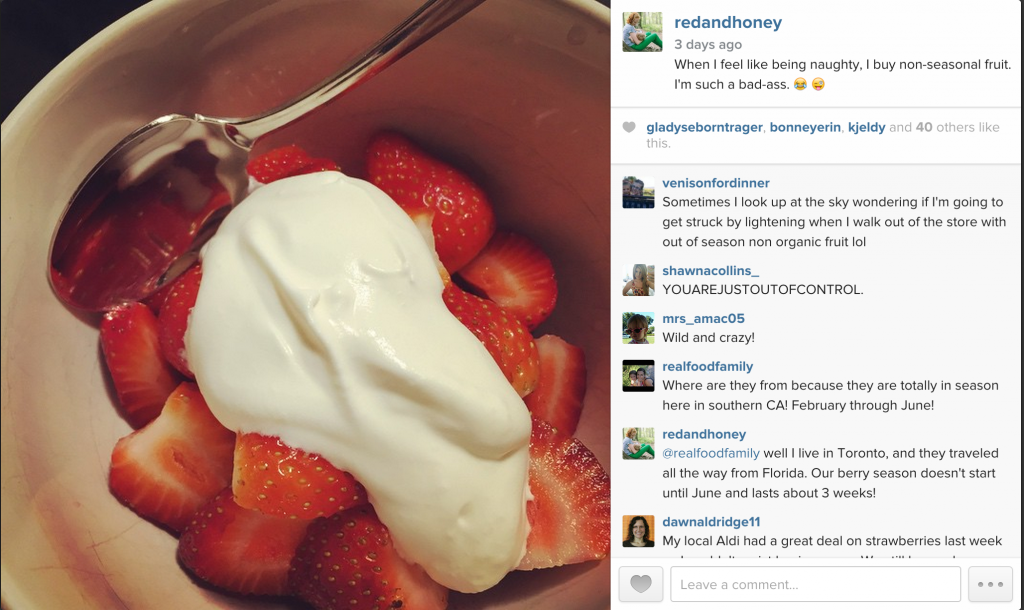 Ok. That's all I have for you today. My hubby got home in the middle of the night last night after 9 full (and looooong) days away. My brain is fried and family movie night is calling to me. Red+Honey out.
Have a great weekend, friends!