(For the sake of clarity for those who are familiar with our journey: this was written approximately a month ago.)
It's pretty nutty in my world as of late.
Our family is wrapping up a month of sheer crazy after hubs got a new job at the end of July (which totally amazed us – read our crazy story here) in a city four hours away. While he was there for two weeks to overlap with the guy he replaced, I did a major declutter and sorting, staged the house, had 29 showings over 4 days, and then we sold to the highest of 3 offers.
Then, I traveled down to Tennessee to spend a weekend with some of my best friends that I got to know through blogging, came home for 4 days of camping, then we moved 3 days later. We arrived here on August 31, and are knee-deep in boxes and the craziness that comes along with moving a family of five with small kids.
So. many. changes.
Our heads are still spinning and we're falling asleep at night scratching our heads and wondering how we got here. It has been a blur.
Now, in the midst of all of that, let me tell you – our healthy living ideals have been hanging on for dear life. Despite that, we have practiced the art of self-care through making healthier choices when possible, even in the midst of a crazy life season. There have been a few healthier products that we've used in the last month that have been total lifesavers, and I thought I'd share those with you!
Sidenote: I'm partnering with Target for this post today because they offer an awesome collection of products with better for you choices, which I'm super excited about! It's called the Made to Matter collection, and it includes hundreds of products from 31 brands that you probably already love, like Seventh Generation, KIND, Annie's, and BOOMCHICKAPOP.
We need things to be easier and more convenient during the busy seasons of life, which is why I love that Target is offering all of these great products, making healthy living more accessible in your everyday life.
Here are five of the products that have helped to save my sanity in this past month, which are available at Target.
1. KIND bars
I don't give my kids granola bars every day because that can get pricey, fast. But I DO love having these in stock (hidden, or else they disappear too fast!) at my house. These, along with LaraBars, are our favorites.
We wouldn't buy conventional granola bars from the store because they're full of terrible ingredients, so I love having a better shelf-stable option for those moments where you really need something in your belly (or your hungry kids' bellies) like STAT. I stash a couple at the bottom of my purse at all times.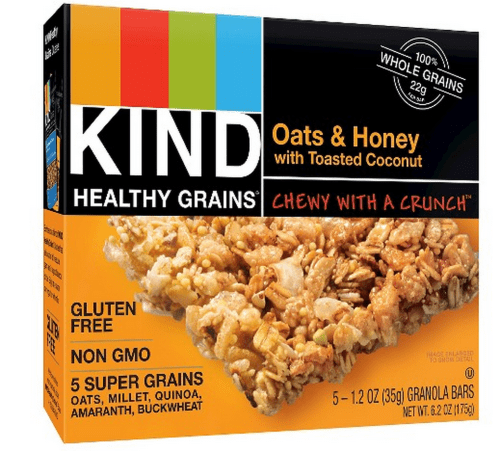 2. Seventh Generation Laundry Detergent
I am very careful and picky about which type of laundry detergent I buy. I've never made my own, and probably won't start anytime soon since my time is more limited these days.
Enter: Seventh Generation laundry detergent. I've been a fan of this brand for years, and really, really loved being able to easily find it at the store in the midst of our move.
3. BOOMCHICKAPOP
We were sitting in a parking lot in our new city the day after the job offer, and deliberating madly on whether or not to rent the house we'd seen that morning. We had to hit the road to drive four hours back to where we lived at the time, but we wanted to sign the lease first if this was the right place for us.
The kids ate nitrate-free deli meat, baby carrots, and BOOMCHICKAPOP popcorn in their seats while watching a DVD. I love the ingredients list for their plain salted popcorn. It was a CRAZY day, and honestly – having some healthier brands accessible to us made things SO much less stressful.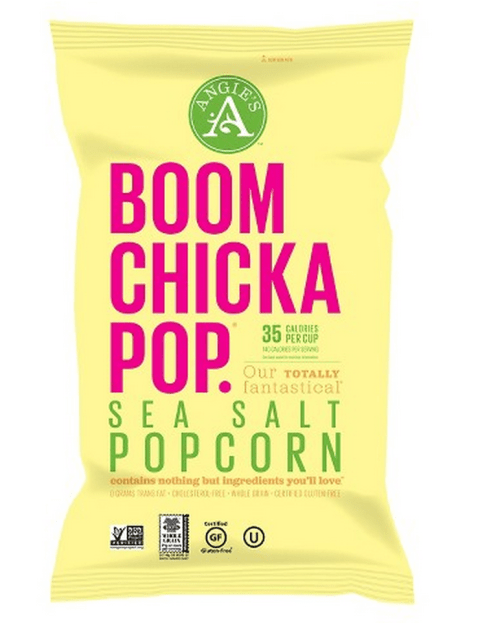 4. Super Easy & Quick Meals, Part 1
I typically steer away from processed foods, even organic ones sometimes. Just because it's organic doesn't mean that it's healthy. BUT in times of crazy, as I've had, I definitely appreciate better options being available. My kids go nuts for Annie's gluten-free mac and cheese, and it's way, way better for you than take-out!
Better to have a couple of these in your back pocket (um, not literally, that would be super uncomfortable) to avoid fast food.
5. Super Easy & Quick Meals, Part 2
Nitrate-free sausages are another of my favorite super easy meals. Fry them up in your cast- iron skillet, and throw some veggies on the side. Faster than it takes to get a delivery pizza to your front door. I speak from experience, y'all.
BONUS: This shampoo is one I've been wanting to try for ages as it's considered to be "low-poo" (as in super clean ingredients with none of the typical bad chemicals that are in shampoos), and lo and behold, I see that it's in Target's Made to Matter collection!
___
Brands that I can trust, more accessible and convenient for me? Yes, please.
I love that Target is responding to consumer demand for healthier options by creating and expanding this awesome Made to Matter collection.
Have you seen the Made to Matter Collection at Target? You can check out the full selection here!
What's your favorite healthy product that makes life easier in crazy life seasons?
Disclaimer: Thanks to Target for sponsoring this conversation!
Beth is the creator here at
Red & Honey
. Mom of four, wife of one, and proud redhead. Sushi and tex-mex lover, fan of adventure, books, natural health talk, and pyjamas. INFP and Type 4 enneagram. Allergic to small talk. And, if you haven't figured it out already, #nerd. Read more posts by
Beth
.