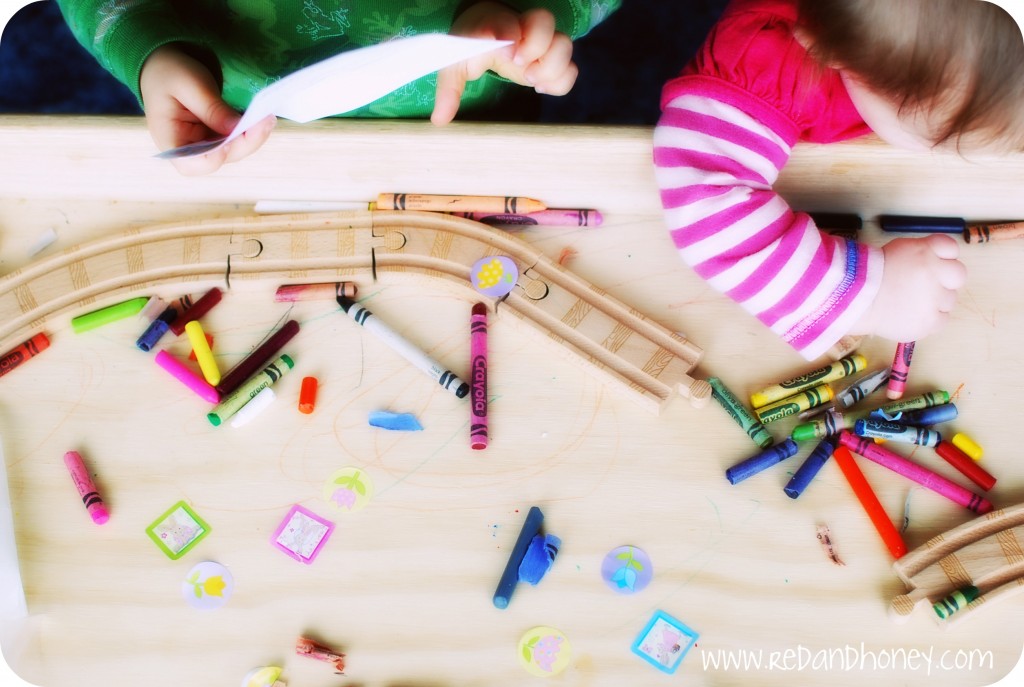 The other day I was in a gnarly mood, scolding the kids for breaking the crayons that I gave them to colour with. And since we all know that a grumpy mama begets grumpy children, and it's all a big fat grumpy cycle of grumpiness, it was not a good scene. Eventually we moved on though, and I tried my darndest not to be annoyed that the brand-new crayons that they got for Christmas are now broken little pieces with the paper torn off and scattered throughout the house.
The next day I was scraping happy face stickers off the kitchen floor which had been strategically placed there for decoration by the three-year-old while the 18-month-old gleefully watched.
"Those darn kids just don't know how to use these things respectfully. Stickers, crayons, and every time I let him paint he ends up painting himself more than the paper. Maybe I just shouldn't bother letting them play with anything until they're at least eight. Maybe ten. Maybe then they'll play with them "properly"… I thought huffily, as I scraped them up with my fingernails."
(At this point I'm indignantly picturing papers with adorable little drawings and reasonably-placed stickers, made with care and coloured with non-broken crayons…)
Then a little voice on my shoulder asked if I might try to compare my kids' playful exploration of stickers and crayons with the way that I stumble around trying to figure out how to use prayer and other tools for spiritual growth.
"um, no," I said firmly. "It's obviously a totally different thing…"
Then the little voice whispered this thought: maybe putting an entire sheet of stickers on the floor just for the sheer joy of peeling them off the sheet and sticking them on is just the way I should be thinking about my spiritual life. Maybe breaking crayons and peeling the paper off and scribbling on the play kitchen are their way of discovering and learning about crayons and how they can be used. I'm sure that in a few years' time they will have stopped those things and started using them more truly, more consistently, and more maturely.
But first, they are children. Acting in childish ways. They are immature and that's ok. They are learning as I (gently!) guide them.
"And maybe, just maybe there's a lesson there for you, too," the voice whispered?
***
A little while later as I reached for my Bible and journal I noticed that my last entry was dated nearly two months ago. Yikes. When will I ever get this thing right? When will I stop being so immature in my disciplines? When will I learn to read and pray and think the way I should? 
And the verse I read was this: "Therefore, since we have these promises, dear friends, let us purify ourselves from everything that contaminates body and spirit, perfecting holiness out of reverence for God."
Perfecting holiness.
It's a process, a journey, a destination. In order for something to be perfected it must by nature find its beginnings in imperfection. On my way as I'm learning and growing and fumbling around with scales on my eyes, I'm making a mess of things, breaking crayons and "wasting" happy face stickers like there's no tomorrow. But I'm trying to get the hang of this stuff. I'm exploring. I'm curious and even playful; I'm determined.
Most of all though, I'm hopeful.
That God can take my broken crayon offerings and lead me to discipleship and the art of perfecting holiness.
One carelessly placed sticker and broken crayon at a time.
Beth is the creator here at
Red & Honey
. Mom of four, wife of one, and proud redhead. Sushi and tex-mex lover, fan of adventure, books, natural health talk, and pyjamas. INFP and Type 4 enneagram. Allergic to small talk. And, if you haven't figured it out already, #nerd. Read more posts by
Beth
.