April 6th, 2012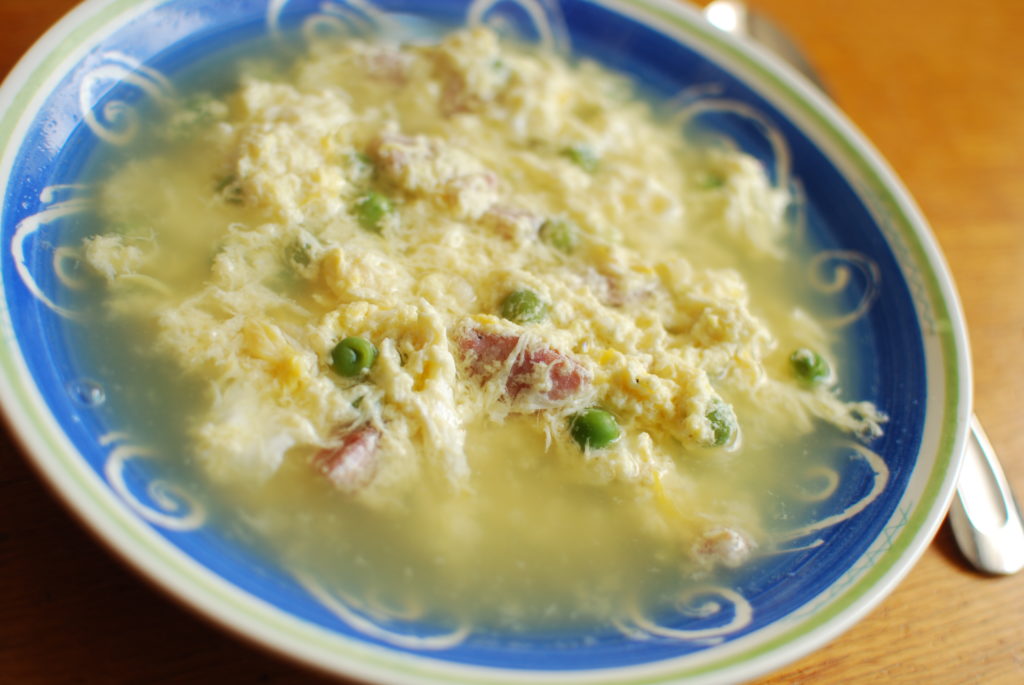 I love playing around in the kitchen. I tweak and modify, and sometimes even invent recipes from scratch. This soup is one of those. Soup is one of the easiest things to make without messing up – it's so versatile and forgiving! I call this one "breakfast soup" because it has eggs and sausage as the main ingredients. Of course I make it with homemade bone broth, which makes it even more nourishing and healthy. It's a great way to start or end the day! I throughly enjoyed the flavour, as did the kiddos (hubby wasn't home). The 3.5-year-old ate two bowlfuls and the 1.5 year-old ate all of hers plus a bit more! Anything that doesn't get rejected by the under 3-feet-tall crowd is a definite bonus. (This would also be super good for anyone who's sick, especially if you added extra garlic for it's immune-boositng properties.)
{The Ingredients}
10-12 cups homemade chicken bone broth
2-ish cups chopped up farmer's sausage (nitrate-free and organic is best!)
scant 1/2 teaspoon ginger powder
scant 1/2 teaspoon cumin powder
1 tablespoon of sea salt*
1/4 teaspoon pepper
4 cloves crushed garlic
1 teaspoon organic tamari (fermented wheat-free soy sauce)
2 cups frozen peas
12 large eggs
{The Method}
1. Pour the broth into a large stock pot. I used my 9-qt pot and it was about half filled.
2. Add chopped sausage, and bring to a boil then turn down to a bubbling simmer. Add ginger, cumin, garlic, tamari, salt, and peas.
3. Simmer for 15 minutes or so until sausage is cooked through.
4. While it's simmering, crack your dozen eggs into a small bowl and whisk them with a fork.
5. Turn the heat down to low, then slowly pour the eggs in a steady stream into the soup while stirring constantly. Continue stirring until eggs are cooked (they cook pretty well instantly).
6. Turn off heat and serve!
* That may sound like a lot of salt, but bear in mind that real sea salt is not bad for you – it is full of important minerals that your body requires to function properly. If you eat a real/traditional food diet you don't have to worry about massive amounts of processed sodium in the boxed junk, so salt your food to taste and enjoy it! Also – homemade broth is massively bland without the salt. It is definitely necessary to taste good! 
What's your go-to kind of soup? I'm looking to expand my soup repertoire, so I'd love to hear your favourites!
***
Be sure to check out my other recipes on my recipe page – I'm slowly adding more and more, and every single one is a family-favourite at our house!
{Linked up with SortaCrunchy for Your Green Resource!, The Nourishing Gourmet for Pennywise Platter Thursday, Real Food Forager for Fat Tuesday, Simply Sugar & Gluten-Free for Slightly Indulgent Tuesdays, and Easy Natural Food for Sunday Night Soup Night!}
19 Responses