January 10th, 2012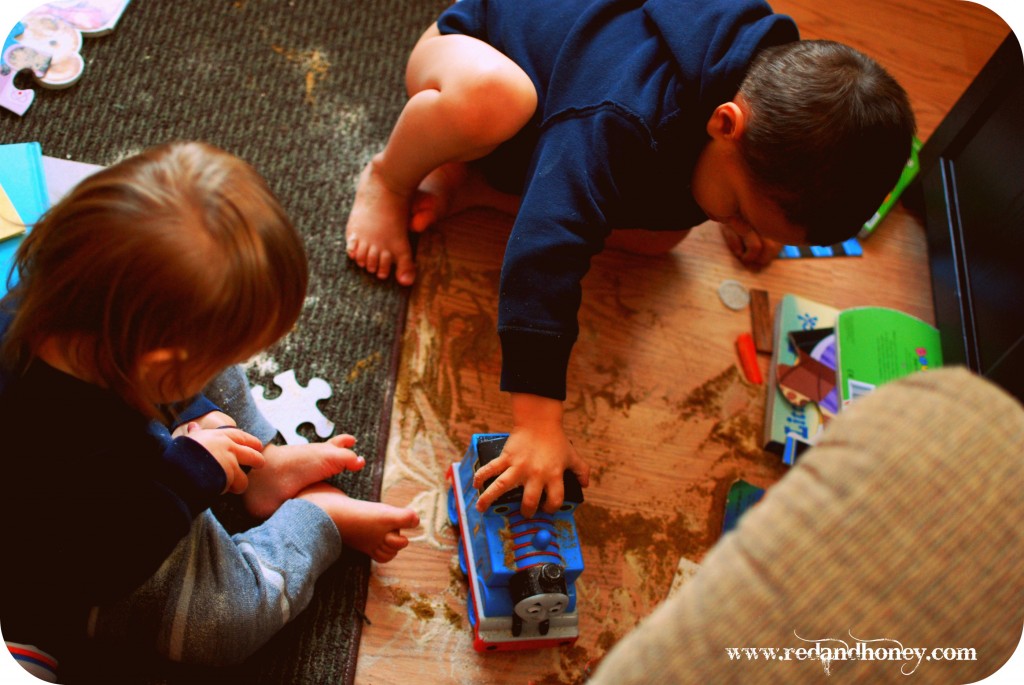 Adorably frustrating two-year-olds around the world have gotten a  bad rap. To be honest, I don't believe in The Terrible Twos. That's not to say that my two darling children are the easiest children ever and passively obey my every word, thus rendering The Terrible Twos inconceivable to me. No. (Good heavens, no!) I get what people are saying when they talk about it, really I do. I have two kiddos who are full of life and each with a very strong will that is decidedly not always the same as my own will. I love seeing that, frustrating as it can be at times. As an idealist and an internal thinker, I've often felt misunderstood by those around me, and I often think that toddlers must feel misunderstood many times throughout their day.
I have heard many mamas further ahead on the parenting journey than me speak about how there are certain ages that may be a wee bit more difficult than others. But when it comes down to it, all stages have their own unique challenges. From infancy to the teenage years, every stage throws new curves at parents, requiring us to stay on our toes, constantly adjusting our strategies and learning new things. Friends of ours shared how difficult it can be to relate to their adult children, one of whom is now married. The dynamics of that are a whole new ball game, and they said that it is just as difficult as the younger years, but different. Our job as parents is never over, and if we're holding our breath for our little darling's 3rd (or any number!) birthday, hoping it magically gets way easier, well, we will surely be disappointed.
I guess I just don't think that the stage of toddlerhood where kiddos are trying to figure this whole "I-have-a-will-and-I-am-my-own-person" thing is really all that terrible.
IF we have appropriate expectations, that is.
The photo above was taken when I discovered my two kiddos playing delightedly in a mess of cumin and garlic powder, driving trains in "the mud", and generally making a really good mess. My vacuum *still* smells like cumin whenever I turn it on. I am glad to say that I did not get angry (ok, a little angry on the inside, but it was more at myself for leaving my spice jars within reach on the countertop). I know that toddlers do this kind of thing, and that they don't do it with the intent of making my day miserable. They don't even think about the mess that now has to be cleaned – they are too busy having fun, following their natural instincts to explore and discover, especially when it involves new things.
At the moment, I have a 3.5 year-old and an 18-month-old. One who just finished being a two-year-old, one soon to join the ranks, and another babe due to join the family in this summer, which means I will not be done with toddlerhood for a good long while. I believe that if you think of discipline as a path or a journey, instead of a quick fix, then expectations are quickly modified. Instead of expecting first-time obedience to our every command, we expect that our child will learn to obey gradually as the natural development of reasoning, impulse control, self-awareness, other-awareness, morality, a sense of duty, etc. all take place.
A two-year-old's world is heavily defined by their growing sense of self. They have a will that is separate from anyone else's, and they love to express it. They are very self-centred, in a  developmental sense, and have trouble understanding why they would not be given what they want. They also have very little impulse control at this stage, and are the definition of curious. They love to explore, and the more mess the better.
So, given all of these natural developmental traits, it is a wonder to me that some people actually expect their toddler to obey them. I certainly do try to teach my kids to obey, especially when they reach 18-months-old or so. Language and understanding really begin to take off, and when I look into Aliza's eyes and hold her gaze, saying "no" in a firm voice, she really gets it, and often obeys with no issue. I've found that the key with her is to hold her gaze until she looks away, and keep my words simple ("No" or "no hitting", etc). She doesn't always obey (at which point I help her to obey, even if it involves physically guiding her to what I want her to do, removing her from the situation, distracting, or any of my other tools in my parenting toolbox), and I don't expect that at this stage. I do expect her to continue learning and growing in an understanding of right and wrong, and most importantly to gain the desire to obey out of love and respect.
I have seen the difference that adjusting expectations makes. We expected far more from our firstborn than he was truly capable of doing, and I spent most of his toddlerhood being immensely frustrated, thinking there was something wrong with me or him, or both. Now that he is a preschooler, and I've been at this game a few years now, I've gained some more knowledge of child development and some tools for relating to him at different stages. I am quite honestly finding my kids to be (mostly) delightful to be around, and a joy to parent. They are both spirited, high-energy kids, and I am having a total blast seeing them develop and grow.
The Terrible Twos? Nah. More like The Terribly Misunderstood Twos. You really can enjoy these toddler years – we certainly do!
What challenges have you experienced in parenting toddlers? Do you think that any one age is significantly more difficult than the others? Would you enjoy more posts on gentle parenting tools?
* A note: I don't believe in enforcing obedience through force (punishment, spanking, time-outs, etc) or attempt to simply modify their behaviour through positive or negative reinforcement. This however is another post for another day, if there is interest in that sort of thing…
12 Responses